For Young Freemasons in London
The Connaught Club was founded to give young Freemasons in London a means to meet and socialise, with like-minded people of similar ages, who might otherwise be dispersed over London's many Lodges and large geographic area. Membership of the Club is open to any Freemason under 35 years of age, whose Lodge/Chapter is under Metropolitan Grand Lodge or who lives/works within London.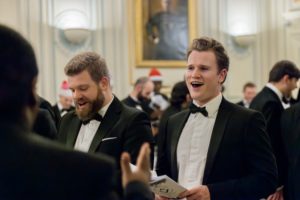 As the frosty London air brimmed with yuletide cheer, the In & Out Club in St James warmly welcomed 72...
Read More
The Connaught Club prides itself on organising a whole multitude of events that range from social gatherings to educational seminars and overseas jollys to Christmas Dinners! 
Take a look at what is coming up over the coming months. 
Masonic Seminar (Grand Stewards) – May 2023 (Completed!)
Chairman's Dinner – Walbrook Club May 2023 (Completed!)
Burgoyne 902 White Table – June 2023 (Completed!)
Annual Club Clay Shoot & Dinner – 8th July 2023 (Completed!)
Family Picnic & Cricket Match – 12th August 2023 (Completed!)
International Lodge Visit – Denmark – 7th to 10th September 2023 (Completed!)
Secretary's Dinner – Buck's Club – October 2023 (Booking Closed!)
Masonic Seminar (Met Grand Lodge History) – November 2023
Christmas Dinner – The In & Out Club – December 2023 (Booking Open!)
Worshipful Mastermind – January 2024
Connaught Club Ski Trip – February 2024 (Booking Open!)